An upset monkey, if you couldn't tell.
Let's start by saying I
knew
our monkey was hard-headed and stubborn...I knew that within a few hours of him being born...after 24 hrs there was no doubt, and on day 3 when we went to the doctor - the doctor knew he was a hard-headed and stubborn baby! Stubbornness and being hard-headed I can handle - I can even respect it, I know how to deal with it because I am...I mean I had a baby without any pain med's, even while being hooked up to pitocin all because I
wasn't
going to be stuck in a bed and I
wasn't
going to give birth laying on my back with my feet in stirrups...see, being hard-headed and stubborn can be good! But back to what I was discussing...I knew the monkey was hard-headed and stubborn...and I knew that he had a temper...but yesterday he took temper to a whole
new
level!
Whenever he gets really worked up - he goes into a silent cry...where he's crying but he kinda forgets to breathe for a few seconds...so you don't hear anything...and then he takes a breathe and you
really
hear it!
Every time
he cries that hard - I'm always sitting there talking to him saying "Breathe Owen, Breathe" and he's
always
breathed. Now these silent cries can happen when you take something away from him, when you lay him down to change his diaper, when you put him down (for whatever reason), when you put him in his car seat...really for whatever reason...if he gets worked up enough or is tired enough - silent cry!
Yesterday he was getting into the shoes, which are in a little corner nook behind his car seat...so pretty much "off limits"...but when the monkey wants something nothing stops him - especially his car seat! So he either crawls over his car seat and leans over it to grab the shoes on the floor OR he moves the car seat so that he can crawl behind it to get the shoes. And that's exactly what he did yesterday! So each time he got a shoe and brought it out I said "Thank you" as I removed the shoe from his hand. He had 2 pairs of shoes and I had 1 pair of shoes...so I had said that 5 times when he comes out with the last shoe. I said "Thanks Monkey!" and his response - because he
knew
it was the last shoe - was to immediately start screaming - and then decided he'd turn it into a silent cry...which would be fine except this is what I began to look at...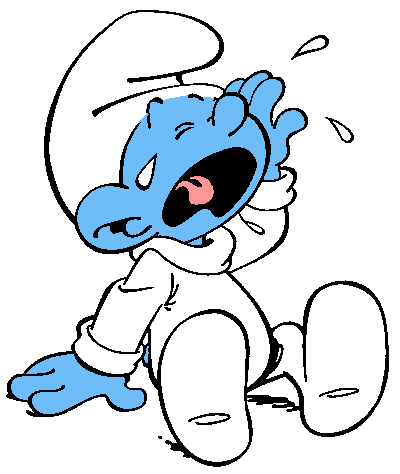 which is definitely not something anyone wants to see...their child turning into a smurf! Okay, he wasn't turning into a smurf but he was turning completely blue and just like the picture there was no sound! That's right - my baby was turning blue...his lips turned blue first and then the rest of his face was following suit...I didn't wait to see if it would spread further...nope in addition to saying
"Breathe Owen, BREATHE!"
I also picked him up and blew in his face 3 times before he actually took a breath and returned to his normal coloring. I should also say, the whole time this was occurring we were skyping with Rusty - so he was able to somewhat experience what was going on - but I don't think the lighting was right so I don't think he was able to fully experience our son turning blue!
From this incident we decided that the monkey has Rusty's temper! And I've also decided that this will be a
great
story to tell in years to come...
"Remember that one time when you got so mad that I wouldn't let you chew on the shoes that you turned blue?"
Of course I'm sure you can guess what he went for again today...that's right - the shoes!